There are many factors that contribute to the economic success or failure of a county. Reports often lean toward jobs, housing and public schools as the reasons certain counties within the same city are thriving more than others. However, less is documented about just how economically helpful colleges are to the overall success of a particular county. Cobb County is home to quite a few colleges and universities, and with that comes a large influx of students contributing to the county's economy through not only tuition, but also retail and restaurant spending and apartment rentals. Naturally, the most crucial factor of a college or university's success, either financial or otherwise, is a high enrollment rate of students. If institutions in Cobb County continue to see steady enrollment rates, it further guarantees the economic flourishing of the county. Cobb In Focus takes a look at how essential students have become to Cobb County and how certain institutions, such as Chattahoochee Technical College, Southern Polytechnic State, Kennesaw State University and the city of Kennesaw, are reaping the economic benefits of higher education.
Q. How does the large number of college students in Cobb County affect the county's economy?
Dr. Ron Dempsey, vice president for university advancement, Southern Polytechnic State University (SPSU)
Southern Polytechnic State University has grown significantly over the past 10 years and currently has more than 6,100 students. We have an additional 1,000 students who are attending Georgia Highlands College, which operates a satellite campus at SPSU. Approximately 25 percent of our students are from Cobb County, but because of our new on-campus housing and our state-wide mission, we attract students from across the state, region and the world. These students live and work in Cobb County. They eat in our restaurants, shop in our stores and are employed by our businesses. Many of our graduates choose to remain in Cobb County and make it their home.
Southern Polytechnic's overall economic impact for 2011 totals more than $198 million, according to a newly released study by the Board of Regents of the University System of Georgia. These numbers are our state-wide impact, but obviously much of that impact is felt right here in Cobb County. The previous report, based on fiscal year 2010 data, placed SPSU's economic impact at $192 million. This year's data represent a growth of more than 3.5 percent in the university's economic impact over the past 12 months and a 20 percent increase in the past 24 months.
Rebecca Long, public relations specialist, Chattahoochee Technical College (CTC)
From the technical college perspective, Chattahoochee Technical College sees students both traditional and nontraditional studying curriculum and programs that result in career opportunities. With a mission of workforce development, Chattahoochee Technical College prepares its students to take on the careers in Cobb County, becoming a part of the tax base and consumers within the region. Chattahoochee Tech students are typically older than traditional college and university students. These students are working adults with families, mortgages and other responsibilities. Upon graduation, most of Chattahoochee Tech's graduates remain in Cobb County or surrounding areas.
Robert S. Godlewski, university relations representative, Kennesaw State University (KSU)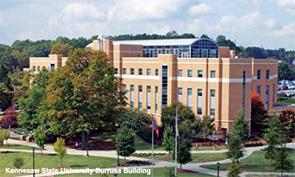 According to a KSU news release issued on July 10, 2012, student spending contributed to a major jump in Kennesaw State University's local economic impact in fiscal year 2011, pushing the total to nearly $854 million for the period between July 1, 2010, and June 30, 2011. A report released [recently] by the Board of Regents of the University System of Georgia [noted] KSU's FY 2011 economic impact on the 28-county Atlanta metropolitan region was nearly $854 million, up almost 7 percent from $800 million in FY 2010. The overall economic impact of the 35-unit university system on the state's economy in FY 2011 was $13.2 billion.
Daniel S. Papp, KSU president
Even as the national economy continues to struggle, it's good to know Kennesaw State's impact on the local economy continues to expand. As we prepare to celebrate our first half century, we take great pride in the role KSU plays in the region's economic success.
Robert Fox, economic development director, City of Kennesaw
Kennesaw State University has the predominant impact. The university contributes to the city's economy in all sectors, but particularly in housing and retail. KSU faculty, staff and students contribute a significant amount of purchasing power for local businesses. The university itself makes a conscious effort to support Cobb County businesses, and the school's facilities, like the new soccer stadium, have hosted NCAA regional athletic events and competitions, which attract visitors to Kennesaw. In addition, more businesses are drawn to locate in the area to take advantage of the labor pool of graduates with appropriate skill sets, particularly in technology, health care and finance.
Q. How has the impact of students changed in the past few years?
CTC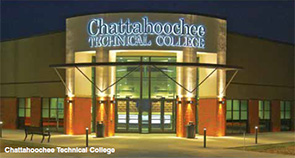 With an insecure job market and uncertain economy, students have flocked back to school to update skills, develop new career paths and prepare for a future with in-demand careers. Chattahoochee Technical College has seen much savvier students enter the college, whether they are researching programs that lead to a more secure job or they are saving money by taking general education courses before moving on to four-year colleges and universities. Students are looking at their goals and developing realistic plans to achieve them.
Jeffrey M. Humphreys, director of economic forecasting for the Selig Center, University of Georgia, Terry College of Business
Comparisons of the FY 2011 estimates to those for recent years show that our public colleges and universities really proved their economic worth during tough economic times. Without exception, each college or university is an economic lynchpin of its host community.
City of Kennesaw
The university's tremendous growth in the past few years has driven increased housing demands. The city has been working with developers to serve their needs with private, purpose built housing in a controlled, secure environment. These student housing projects get students out of single-family neighborhoods and help relieve traffic congestion by being commutable by foot or bicycle.
Q. Are there any new developments in the pipeline to accommodate students' needs?
SPSU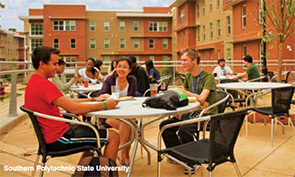 [Due to] our growth, we have outgrown many of our academic and student support facilities. Currently, we are assessing the need of providing more recreational and wellness space for our students through a possible expansion of our Wellness Center.
CTC
Faculty and staff with Chattahoochee Technical College are always looking toward the mission of workforce development. Combined with Gov. Nathan Deal's focus on increasing graduation rates, CTC has concentrated its efforts in several areas. Curriculum is continually being enhanced and reviewed to match industry needs. Students needing learning support before entering program specific courses are benefiting from changes to the way those classes are now taught and allowed to move at their own pace.
Robert S. Godlewski, KSU
[KSU has several projects on the horizon for our continued vision of our institution, like] the new University Place II housing, the new Science Lab Building, the final phase of the KSU Sports and Recreation Park, the construction underway on the Bagwell College of Education addition and the Bernard A. Zuckerman Museum of Art and the groundbreaking later this summer on the Betty L. Siegel Student Recreation and Activities Center.
City of Kennesaw
[A new property sure to attract incoming students], U Club on Frey, opened in 2012. A second phase is projected to be available in the summer of 2014. West 22, an 850-bed community, will open this summer. The West 22 project also includes additional retail development that will be attractive to the student population.