The annual Good Eatin' Great Cause is a culinary tour and competition on Thursday, September 15, 2016 from 6 pm to 10 pm.  The event takes place at the Cobb Galleria Exhibit Hall and features food from some of the best chefs and restaurants in the metro area. Attendees can also enjoy music and participate in a silent auction.
The annual event also features a cooking competition in which local celebrity chefs serve as mentors in a judged team cook-off competition between Cobb County Police Chiefs, Cobb County District Attorney's Office, Cobb County Sheriff's Office, and the Marietta Fire Department.
The host for this year's cooking competition is Ryan McKay, of NBC'S Food Fighters.  In addition, celebrity Southern chefs Asha Gomez, Holly Chute, and Ian Winslade will be there as judges for this prestigious culinary competition.
Participating restaurants include Canoe, Chicken and the Egg, The Cook's Warehouse, Crooked Tree Cafe, Douceur De France, Drift, Fuji Hana, Fusco's Via Roma, Gabriels Restaurant and Bakery, Henry's Louisiana Grill, High Road Ice Cream & Sorbet, Low Country Catering, Piastra, Patak, Seed, Soho Bistro, Springer Mountain Farms, STK, Stockyard Burgers and Bones, Sugar Cakes, Taqueria Tsunami, Talenti Gelato & sorbetto, and Two Birds Taphouse.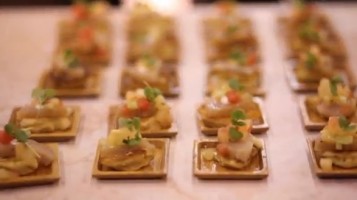 Date:
Thursday, September 15, 2016
Time:
6 pm to 10 pm
Tickets:
$75 per person
Tickets are tax deductible
Dress:
Casual
Address:
Cobb Galleria Exhibit Hall
2 Galleria Parkway Southeast
Atlanta, GA 30339
For more information, please call (770) 801-3465 or visit SafePath.org/Good-Eatin-Great-Cause
About SafePath Children's Advocacy Center
SafePath Children's Advocacy Center, Inc. is a private 501(c)3 non-profit organization dedicated to improving the lives of children who have been abused.