The 2016 Glover Park Concert Series takes place on the last Friday evening of each month from April to September. Enjoy music under the stars and be sure to bring a picnic and blankets or set up your lawn chairs after 4 pm (no tarps or tents). Personal tables can be set up in the street on North Park Square after 6 pm but not in Glover Park. The free outdoor concerts take place at 8 pm rain or shine.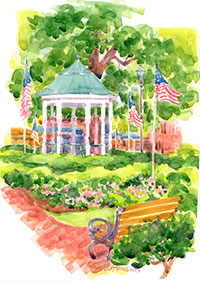 All concerts are free all summer long, but if you're looking for a front-row seat, a limited number of tables can be reserved. The cost is $45 for a table that seats six people, or $55 for a table for eight. For more information about table reservations, call (770) 794-5601. Reservations for tables are on a first come basis beginning on the first working day of each month at 8 am.
2016 Glover Park Concert Series Schedule:
April 29: Still Swinging, Big Band
May 27: The Tams, Carolina Beach
June 24: Sons of Sailors, Jimmy Buffett Tribute
July 29: Members Only, '80s Party Band
August 26: Infinity Show Band,Variety
September 30: Soul Purpose, Motown
Address:
Glover Park
50 Park Square
Marietta, GA 30060
For more information, call (770) 794-5601.