The 2015 Glover Park Concert Series takes place on the last Friday evening of each month from April to September. Enjoy music under the stars and be sure to bring a picnic and blankets or set up your lawn chairs after 4pm (no tarps or tents). Personal tables can be set up in the street on North Park Square after 6pm but not in Glover Park. The free outdoor concerts take place at 8pm rain or shine.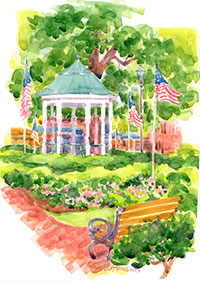 All concerts are free all summer long, but if you're looking for a front-row seat, a limited number of tables can be reserved. The cost is $45 for a table that seats six people, or $55 for a table for eight. For more information about table reservations, call (770) 794-5601. Reservations for tables are on a first come basis beginning on the first working day of each month at 8am.
2015 Glover Park Concert Series Schedule:
April 24, 2015 – Grains of Sand (Beach/R&B)
May 29, 2015 – Douglas Cameron (Big Band/Swing)
May 30, 2015 – Symphony on the Square
June 26, 2015 – The Neons (Motown)
July 31, 2015 – Mike Veal Band (Variety)
August 28, 2015 – Electric Avenue (80's Hits)
September 25, 2015 – Grapevine (Oldies/R&B)
Address:
Glover Park
50 Park Square
Marietta, GA 30060
For more information, call (770) 794-5601.