Peter Chang is a celebrated chef who was based in Marietta for a short but impactful period of time.  He is renowned for his mastery of Szechuan Chinese cuisine, a style of Chinese cooking known for its bold flavors and liberal use of chili peppers and hot and numbing Szechuan peppercorns.
Prior to his journey to Marietta, he had already made waves in China, winning two major cooking competitions—no small feat in a society that often places collective achievements over individual accolades.  Adding to his impressive credentials, Chang had the honor of cooking for Chinese Premier Hu Jintao, and later served as head chef at the Chinese Embassy in Washington D.C.
Though not related to celebrity chef David Chang of Momofuku restaurant group or the restaurant chain P.F. Chang by Paul Fleming (P.F) and Philip Chiang (Chang), Peter Chang's reputation for authentic Szechuan dishes has turned him into a legend, with food enthusiasts and critics alike praising his culinary skills and innovative creations.
A  Mysterious Chef
One of the most intriguing aspects of Peter Chang's career is the enigmatic aura that he cultivated early on. Following his time as the head chef at the Chinese Embassy in Washington D.C., he moved from restaurant to restaurant in the southern U.S, one of which was Tasty China in Marietta.
Just as the restaurants would start to gain popularity, he would vanish, working at 10 locations over the span of just 8 years. This sparked a cult following as fans would scramble to discover his latest location. The mystery was so compelling that it became the subject of online forums and even led to profiles in The New Yorker and The Oxford American in February of 2010.
In March of 2010, just a month after The New Yorker and The Oxford American articles were published, Peter Chang disappeared again.
Years later, a Washington Post article revealed that Chang and his family kept moving around because they had fled the Chinese embassy in Washington D.C. just days before his green card was set to expire and he was to return to China:
How chef Peter Chang stopped running and started empire-building
"For years after he left the Chinese Embassy, Peter Chang seemed more ghost than chef, hiding in Fairfax and Alexandria kitchens under assumed names, often quick to flee when his cooking generated too much attention. He'd rarely, if ever, leave a forwarding address. …So began the family's shadow existence: hiding from Chinese bureaucrats and U.S. immigration officials while trying to piece together a life without the proper work permits.  …While the chef was trying to hide in the shadows, others were trying to shine a spotlight on him.  …The attention was both flattering and frustrating to the family. It increased Chang's profile among diners. It also, potentially, increased his profile with immigration and embassy officials." – The Washington Post
Culinary Stability and Expansion
In March 2011, Peter Chang's China Grill opened in Charlottesville in partnership with fellow chef and restaurateur Gen Lee. The duo's bond traces back to the days when Lee operated a sandwich shop beside Chang's Taste of China. With the opening of China Grill, Chang and his wife secured authorization to work in the U.S., ending Chang's pattern of brief tenures in various kitchens.
The subsequent year saw the inception of Peter Chang China Café in Short Pump, a Richmond, Virginia suburb. This establishment garnered accolades in 2012, being highlighted by Bon Appétit as one of the 50 Best New Restaurants in America.
"The peripatetic master of Sichuan cuisine has finally (hopefully) settled down, cooking fiery, layered dishes from China's food-obsessed province in suburban Richmond.
LOOK FOR: Bamboo fish; mapo tofu; Shan City chicken" – Bon Appétit
September 2012 witnessed the launch of Peter Chang Cafe in Williamsburg, Virginia, closely followed by Peter Chang's China Cafe in Fredericksburg, Virginia in May 2013. Continuing this momentum, March 14, 2015, marked the unveiling of a namesake restaurant in Arlington, Virginia, and another in Rockville, Maryland, a month later.
June 5, 2016, brought forth another culinary marvel in the Scott's Addition Historic District of Richmond: another restaurant under his name. The array of eateries that emerged from 2010, thanks to the Chang-Lee collaboration, are now conveniently labeled as "Peter Chang [location]." Collectively, they have a presence in seven locations.
Fast forward to May 2017, Bethesda, Maryland, saw the inception of Q by Peter Chang, which celebrated its grand opening in June. The subsequent year, March 2018, Stamford, Connecticut, welcomed a new addition, steered by a partnership with businessman Bill Xia.
2019 was marked by a special launch, Mama Chang in Fairfax, Virginia. This place, inspired by recipes from Chang's wife and mother, had an overwhelming response, hosting 1,000 patrons on its opening weekend alone. Its charm was further solidified when Tom Sietsema, a critic from the Washington Post, placed it atop his list of the year's best new eateries in the Washington vicinity.
"Peter Chang's latest, and possibly greatest, enterprise…the tribute to the cooking of Lisa, a professional chef, and Peter's mother, a former farmer in central China, is as mouthwatering as it's ever been." – Washington Post
The Chang duo further expanded their culinary map by introducing NiHao in Baltimore in July 2020. Fast-forwarding to October 2022, Washington, D.C.'s Dupont Circle became home to Chang Chang, proudly representing Chang's debut inside the District of Columbia.
Not Just Another Chinese Restaurant
Peter Chang's culinary style embodies the essence of traditional Szechuan cuisine while incorporating modern twists. His dishes offer a departure from the generic Americanized Chinese food that many people are accustomed to. The menu includes a range of  Szechuan dishes like dry-fried eggplant, bamboo fish, hot and numbing beef tenderloin, scallion bubble pancake, and cumin-lamb stir fry, which give diners a taste of the complexities and nuances of Szechuan flavors. Chang's attention to detail and the balance of flavors have elevated the perception of Szechuan cuisine, making it more than just "spicy Chinese food."
Recognition and Accolades
Chang's work has attracted the spotlight of television features.  In November 2013, his restaurant China Cafe in Richmond was featured on Season 3, Episode 4 of Andrew Zimmern's Bizarre Foods America on the Travel Channel.
Host Andrew Zimmern noted that "many consider Peter Chang to be the greatest Chinese chef cooking in America, and he has a devoted legion of followers to prove it. Chang's food-obsessed groupies, who've spent years chasing the peripatetic chef across the country, are finally at peace now that he's settled down in Virginia. At Peter Chang's China Cafe you'll find phenomenal Szechuan food that is a result of a combination of masterful techniques and flawless ingredients. One of his signature dishes is dry fried eggplant, a technique he developed to eliminate any oily mouthfeel. This technique yields a soft, creamy interior and dry, crunchy crust that's coated in numbing bliss and fiercely pleasurable hot chiles."
Additionally, in July 2016, Peter Chang's restaurant in Rockville appeared on season 3, episode 4 of the Food Network's Top 5 Restaurants, hosted by Sunny Anderson and Geoffrey Zakarian. These appearances only helped solidify Chang's reputation as a luminary in the culinary arts.
Chang's work has not gone unnoticed in the culinary world. Notably, he was a finalist for a James Beard Award in 2016 for Best Chef, Mid-Atlantic. He has also been invited to cook at the prestigious James Beard House in New York City multiple times, including for a special dinner in November 2019, aptly named "The Chang Mystique." In 2022 he was again a James Beard Award finalist in the D.C. area.
In October of 2023, his Chang Chang restaurant in Washington, D.C. earned a rare and prestigious Michelin star rating.  In addition, his restaurants have garnered rave reviews, often cited as some of the best places to experience authentic Szechuan cuisine in the United States.
Today, Peter Chang manages a growing collection of restaurants across Virginia, Maryland, Washington D.C., and Connecticut. He has played a pivotal role in broadening the American understanding and appreciation of the Szechuan style of Chinese cuisine, elevating the cuisine to new heights in the United States and challenging diners to expand their culinary horizons.
A Culinary Legacy
Though he left Marietta years ago, his culinary footprint persists and continues to grow in Marietta and the surrounding area. His influence is evident in more than a dozen restaurants that opened in metro Atlanta in the time after he left, extending from Marietta to locations in Alpharetta, Atlanta, Buckhead, Buford Highway, Chamblee, Decatur, Doraville, Duluth, East Cobb, Halcyon, Kennesaw, Krog Street Market, Ponce City Market, Roswell, Sandy Springs, and more.
Popular Szechuan Restaurant Returning to Powers Ferry Road
Dahe Yang currently operates Tasty China in Marietta as well as Jia at Ponce City Market in Atlanta. Previously, Yang operated Peter Chang's Tasty China II in Sandy Springs, but that location was sold and rebranded as 'Sho Spicy' in 2020.
Tasty China
The original Atlanta area Szechuan Chinese restaurant where Peter Chang began working in Marietta in 2006.
1808 Powers Ferry Rd
Marietta, GA 30067
(770) 627-2390
TastyChina.net
"Devotees of chef Peter Chang are regulars to this beloved Chinese restaurant, which now resides on Powers Ferry Road. And for many longtime Atlantans, Tasty China is where they first fell in love with Sichuan cuisine. Head here for classic hot and numbing Sichuan dishes, including dry-fried eggplant, mapo tofu, cumin lamb, and braised fish in red chili oil. The menu includes a few American-Chinese dishes, too, like General Tso's chicken and Mongolian beef." – Eater.com
Jia Szechuan Food and Bar
Szechuan-inspired restaurant from Dahe Yang and chef Jiguo Jiang of Tasty China.
Ponce City Market
675 Ponce De Leon Ave NE
Atlanta, GA 30308
(470) 343-2881
TastyChina.net
Sho Spicy (originally Peter Chang's Tasty China 2)
4920 Roswell Rd Suite 11
Sandy Springs, GA 30342
(404) 600-6586
ShoSpicyToGo.com
Kennesaw's Fire Stone Chinese continues legacy of Peter Chang
"Fire Stone chef Wen-Qiang Huang, the man responsible for the delectable Sichuan cuisine at this 7-month-old dining room near Town Center at Cobb, is a longtime (20+ year) associate of the elusive Peter Chang. Huang came to our region with the masterful Chang back in 2006 to cook at the original Tasty China in Marietta, and later followed him to Virginia, where they opened restaurant after restaurant, all the while building an ardent network of groupies." – AJC
The Ultimate Guide to Chinese Food in Atlanta
"Newcomer Fire Stone Chinese Cuisine in Kennesaw also has quickly become a hot spot for Szechuan. Chef Wen-Qiang Huang was a disciple and associate with acclaimed chef Peter Chang, who first helmed the kitchen at the original Tasty China location.  The mapo tofu and dry fried eggplant are some of the best in ATL!" – Atlanta Eats
Fire Stone Chinese Cuisine – Kennesaw
840 Ernest W Barrett Pkwy NW #588
Kennesaw, GA 30144
(678) 324-0512
FireStoneKennesaw.com
Fire Stone has since opened a second location in East Cobb.
Fire Stone Chinese Cuisine – Marietta
1401 Johnson Ferry Rd Suite 128
Marietta, GA 30062
(678) 202-4624
FireStoneKennesaw.com
Sublime Szechuan at Masterpiece
"Chef Rui Liu worked at Peter Chang's Tasty China in Marietta before opening Masterpiece. Clearly, Liu has learned from his former boss." – AJC
Recommended at Masterpiece:
F6: Dong Po Pork
G11: Eggplant w. Chili Powder & Pepper Ash powder (aka Peter Chang's dry-fried eggplant)
50 Best Restaurants in Atlanta: #3 Masterpiece
Masterpiece's "Rui Liu, a certified master chef from northeastern China, came to America on an O-1 visa given only to 'individuals with extraordinary achievement.'" – Atlanta Magazine
Chef Rui Liu was a James Beard Award semifinalist for Best Chef: Southeast in 2017 and 2018
Masterpiece
3940 Buford Hwy NE b103
Duluth, GA 30096
(770) 622-1191
MasterpieceDuluth.com
Peter Chang chef opens Hai Authentic Chinese in Decatur
"A chef who worked with award-winning Szechwan restaurateur and chef Peter Chang has opened a restaurant in Decatur.  Chef Wan Hai worked at restaurants in China, Europe and Russia before joining Chang in Maryland, where he eventually became his business partner and a regional chef." – AJC
Hai Authentic Chinese – Decatur
Chef Wan Hai worked alongside famed chef Peter Chang (Tasty China) for three years.
2641 N Decatur Rd
Decatur, GA 30033
(470) 225-7172
HaiEat.com
Owner/restaurateur Gary Lin opened or co-opened Urban Wu in February 2019, Hai in June 2019, Hao in February 2020, Wei in June 2020, and a second location of Hai in Alpharetta on February 23, 2021.
Urban Wu
Located at the "disco" Kroger on Piedmont in Buckhead
3330 Piedmont Rd NE #22B
Atlanta, GA 30305
(404) 816-8008
UrbanWuGA.com
Wei Authentic Chinese Cuisine
Next door to La Parilla Mexican near the Marietta Square
35 South Marietta Pkwy SW
Marietta, GA 30064
(678) 403-8090
EatWei.com
Hai Authentic Chinese – Alpharetta
Chef Wan Hai worked alongside famed chef Peter Chang (Tasty China) for three years.
5530 Windward Parkway
Alpharetta, GA 30004
(678) 580-2877
HaiEat.com
Hao Chinese Cuisine
3830 Princeton Lakes Ct SW Ste 900
Atlanta, GA 30331
(404) 629-2575
HaoChineseCuisine.com
Man Chun Hong
Opened in 2008, Man Chun Hong is a Chinese-Korean fusion created by chef and owner Jason Chang. Chef Jason was born in Korea to Chinese parents and moved to Marietta with his family when he was 8 years old.  He grew up in the restaurant business and learned the tricks of his family's trade through timeless recipes passed from previous generations into his father's kitchen. "He taught me by sharing the purpose and outcomes of every sauce, spice, and technique; this is what I give to our guests."  Man Chun Hong can be translated to "The whole sky is red (lucky)" and offers a variety of Szechuan as well as Korean dishes on its menu.
5953 Buford Hwy NE #105
Atlanta, GA 30340
(770) 454-5640
ManChunHong.com
Likely Influenced by Peter Chang:
Yummy Spicy
Opened in early 2017
5164 Buford Hwy NE
Doraville, GA 30340
(770) 680-5605
YummySpicyGA.com
Chef Wu
1570 Holcomb Bridge Rd STE 810
Roswell, GA 30076
(770) 680-5439
ChefWuGA.com
Xi'an Gourmet House
3875 Venture Dr Suit #A6
Duluth, GA 30096
(404) 547-3088
XianGourmetHouseDuluth.com
Gu's Bistro
In 2010, Yiquan Gu, a veteran chef with a rich culinary background, established Gu's Bistro on Buford Highway, flanked by his talented wife, Qiongyao Zhang, from Chengdu, and their dedicated daughter, Yvonne. Their offerings quickly gained traction, leading many to compare Gu's Bistro with Peter Chang's renowned Tasty China.
However, by 2015, with a lease renewal looming and Chef Gu nearing retirement age, the family decided to shutter the bistro. Yvonne, sensing the need to continue the culinary tradition, launched Gu's Dumplings in the bustling Krog Street Market, focusing on a condensed menu. While their crescent Zhong Style dumplings became an instant hit, many patrons still yearned for Chef Gu's broader Chengdu-inspired menu.
Yvonne's revelation that her father missed his kitchen craft led to the family's return to Buford Highway with Gu's Kitchen. This modern iteration promises the charm of the original bistro but with a contemporary touch.
Gu's is most famous for its award-winning Zhong Style Dumplings, a 100-year-old recipe  featuring a tempting blend of pork, chicken, or vegetables in a flavorful Zhong sauce, highlighted by minced garlic and green onions. Beyond this crowd-favorite, the menu features unique dishes like the Szechuan Po' Boy and Szechuan French Fries, as well as nods to chef Peter Chang with offerings like Spicy Dried Eggplant (aka Dry-Fried Eggplant).
Gu's Kitchen
4897 Buford Highway Suite 104
Chamblee, GA 30341
(470) 299-2388
guskitchen.com
Gu's Dumplings
Krog Street Market
99 Krog Street, Suite M
Atlanta, GA 30307
(404) 527-6007
gusdumplings.com
Expanding their reach, Gu's Dumplings has since introduced a second outpost of Gu's Dumplings at Halcyon in Alpharetta.
Gu's Dumplings
Halcyon
6330 Halcyon Way, Suite 750
Alpharetta, GA 30005
(678) 691-4844
gusdumplings.com
Even though years have passed since his departure from Marietta, the Peter Chang culinary legacy continues to resonate from Marietta to areas across the metro Atlanta region. The scope of his influence is reflected in the proliferation of numerous restaurants that have emerged since his departure, spreading his signature dishes and influence across an array of locations throughout metro Atlanta.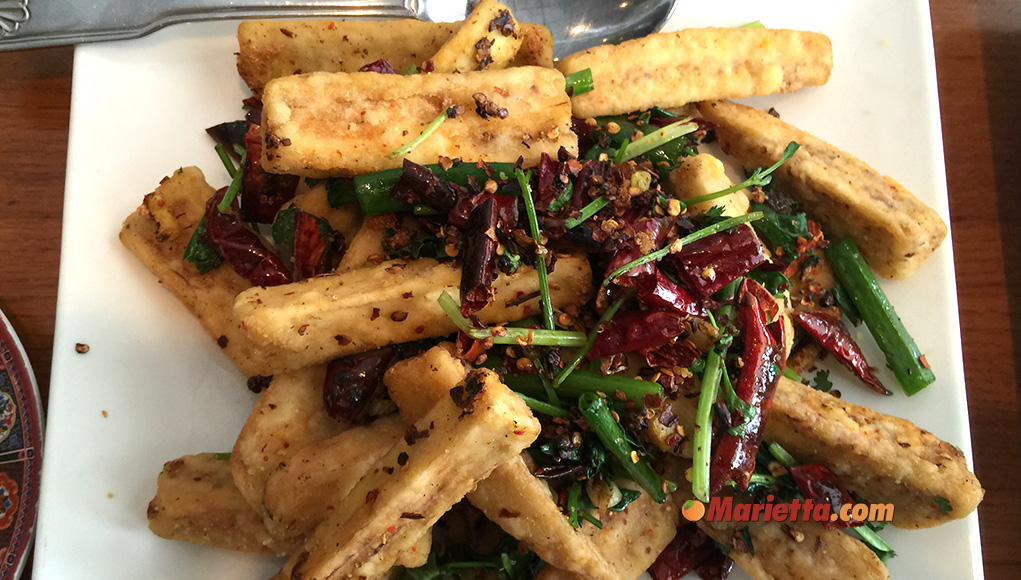 "Dry Fried Eggplant – It's exactly how it sounds but better. The eggplant has an extremely crisp exterior and creamy interior much like the best French fries. It's dusted with some seasoning and also cooked with chili peppers… It's still one of the tastiest vegetarian-friendly dishes I've ever had. It's probably the best eggplant I've ever had." – The Food Abides