The Marietta Streetfest ended in 2021 after 30 years of festivals on Marietta Square.
Classics, collectibles, and treasures awaited at the Annual Marietta Streetfest that took place for the last time on September 18 and 19, 2021. Formerly known as the Marietta Antique Street Festival, the Marietta Streetfest was held on the historic Marietta Square and featured antiques, autos and more.
The event was a fundraiser for the Marietta Museum of History and put Georgia pride on display by featuring Georgia antique dealers, Georgia artisans, Georgia attractions, the Marietta Square Farmers Market (9 am to noon), the Hubcaps and History Marietta Classic Car Show, and the Marietta Grassroots Music Festival.
More than 70 dealers from around the state of Georgia showcased their unique collections. Visitors were able to choose from a selection of unique collectors' items, fine furniture, home decorations, glass, porcelains, bottles, linens, and collectibles.  Georgia artisans will be displaying their diverse selection of arts and crafts products ranging from folk art to shabby chic and traditional home furnishings.
Hubcaps and History Classic Car Show:
The popular hubcaps and history car show allowed participants and browsers alike enjoy this show that featured hot rods, classic cars, vintage vehicles and cool motorbikes.
GrassRoots Music Festival:
The Marietta Grassroots Festival showcased local talent and featured a variety of entertainers from Marietta and the surrounding community.
Marietta Museum of History:
Visitors the day of StreetFest also received free same day admission to the Marietta Museum of History on Saturday between 10am and 4pm or Sunday between noon and 4pm.
For more information, please call (770) 794-5710 or visit mariettahistory.org.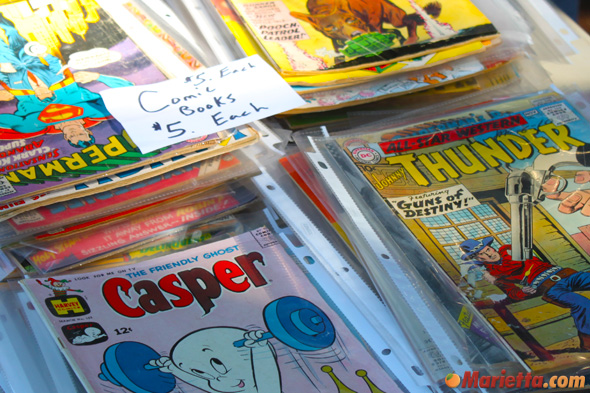 About the Marietta Streetfest:
Formerly known as the Marietta Antique Street Festival, this show is the only antique festival in Cobb County and was recently selected by the Southeastern Tourism Society as a Top 20 Event. The event is a fundraiser for the nonprofit Marietta Museum of History.
For more festival information, please call (770) 794-5710.
For vendor information and questions about space availability, please contact the festival coordinator at (404) 966-8497 or visit mariettastreetfest.com.