Educating the whole child is about more than a well-balanced curriculum, but also providing a safe and up-to-date location for a child to learn, in addition to innovative programs that help a young person excel throughout their elementary, middle and high school years. That being said, a number of Cobb County's independent and public schools have some improvements to buildings and program options that were recently completed, prepping students for a great school year, and are still underway, setting the stepping stones for the schools' futures.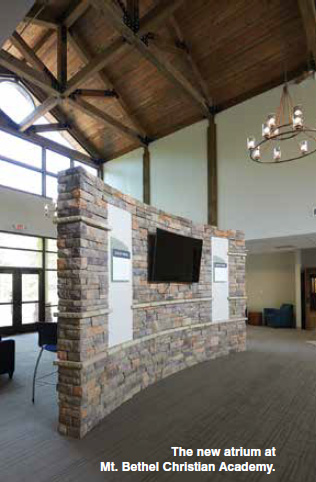 At Mt. Bethel Christian Academy in East Cobb, ninth and 10th-graders are enjoying its newly renovated North Campus at 2509 Post Oak Road in Marietta. Purchased in June 2014, Head of School Jim Callis says renovations to the 33-acre property, formerly known as Shirley Blumenthal Park, were completed in May. Constructed by Gay Construction, renovations include classrooms and a two-story rustic wood-beamed foyer and commons; office space; two science labs; a performing arts studio; visual art studio; student conference center; dining hall with full commercial kitchen; fully equipped fitness center; newly renovated gymnasium with retractable seating; a six-lane, 25-meter pool; four new tennis courts and athletic fields. The academy will continue to grow the North Campus, adding grades through 12th grade. In addition, it is on track to be the only faith-based, college-preparatory K-12 private school in east Cobb.
Also in Marietta, The Walker School closed on approximately 18 acres of contiguous property off Allgood Road in November 2014. Shelly Manuel, Walker's director of advancement, says the Board of Trustees approved a long-range campus master plan developed by Mike Mascheri of Chapman Coyle Chapman & Associates Architects AIA Inc. in March. The school is currently working on the first phase of development to enhance academic, arts and athletics facilities. Details about the property will be released at a later date.
Accommodating Growth
Students attending schools in the Cobb County School District are seeing ongoing construction or recently completed construction as they headed back to school this August. At Wheeler High School, for example, which completed a major rebuild a few years ago, a new gymnasium and performing arts theater valued at a total of $23 million is under construction and scheduled for completion in January. Just a few miles east of Wheeler, students at Walton High are expected to be attending classes in a brand new school by fall 2017. The four-story, 143-classroom building is estimated to cost about $48 million and is funded by SPLOST IV.
"Walton's current campus is just so disaggregated and needed to be refreshed," says Cobb Schools Superintendent Chris Ragsdale. "Being that it's on a 43-acre plot, there is a significant challenge, but when we finish construction, we will have a much more beneficial campus, more utilization of the campus." He adds that during construction, no students will be displaced, nor will portable units have to be installed on campus to serve as classrooms.
The Marietta High School Blue Devils football team will be playing in a new stadium this fall. Northcutt Stadium, originally dedicated in 1940, underwent $11 million in renovations. These include an improved visitor's side bleachers and raised walkway, main crosswalk of the home side stands and the interior of the restroom facility on the visitor side. Construction was necessary to modernize and improve Northcutt and the surrounding area with needed capital improvements. The board-approved cost is being funded through SPLOST IV and the district's Building Fund. Construction began in November 2014 and was completed just before the first game of 2015.
To learn more about each school's projects and programs, be sure to visit district and individual independent school websites. Details related to construction dates, as well as costs and contractors, may be available.