The great barbecue of the South is the focus of the Annual Whole Hawg Happenin' – a BBQ & Music Fest taking place on the Marietta Square on September 27, 2014 from 11am to 6pm. The best metro Atlanta area restaurants and caterers will be on hand offering samples of their tasty bbq and other dishes while a variety of bands will be playing throughout the day.
Attendance is free and tastes of BBQ range from $.50 – $5.00.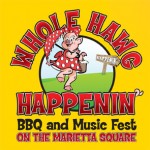 The family friendly BBQ event features:
Tasty BBQ and food
Live entertainment
Beer Garden
Large Kids Corner featuring fun activities
And more fun and excitement
Date:
September 27, 2014
Time:
11am – 6pm
Location:
Marietta Square
50 Park Square
Marietta, GA 30060
Admission:
Admission to the whole hog happening is free, food prices range from $0.50 to $5.00.
Participating Food Vendors in 2013
Dave Poe's BBQ
Brusters Ice Cream
Fox Specialty Dogs and Street Eats
Williamson Bros
Cool Hawaiian Shaved Ice
Sam Huff BBQ 1
Jimmy's Funnel Cakes
Rib Ranch
General Jerk Shack
Heirloom BBQ
Oceans Seafood
Big Al's BBQ on the Marietta Square
Alisha's Kitchen Food Truck
Vintage Frozen Custard Food Truck
Sweet J's Candy Food Truck
Scoop It's
Zoe Enterprises – Cornbread
Big Shanty Smokehouse BBQ
Pit Boss BBQ
Granny's Lemonade
Pedals and Treats
King of Pops
Greek Tavern Lemonade
Marie's Ice
And more to come…
Parking:
Free
For more information, please call MaryClaire Andres at (404) 388-6975.
MARIETTA, GA…It's about that time again….WHOLE HAWG HAPPENIN' TIME! Presented by Superior Plumbing, and sponsored by the City of Marietta, the festival is coming back to the Marietta Square! On Sunday, Sept. 29th, WHH returns for a second year! And, this year, there is something extra spicy about the festival to awaken taste buds! This year, the WHH is a KCBS sanctioned event! The KCBS status makes the WHH an approved national Kansas City BBQ Society event and means that the festival is accepted into their prestigious contest selection.  "The KCBS sanctioning component is great for this year.  To be sanctioned is an honor in the world of BBQ contests, pit masters and brisket!"  states Maryclaire Andres, Whole Hawg Happenin' Festival Producer. "KCBS publicizes us to contest teams from all over the country and gives them the opportunity to come and compete for points, bragging rights, and prizes here in Marietta. KCBS sanctioning ads a level of prestige in the BBQ arena."

The Marietta Square will become a BBQ lover's paradise with such restaurants as Rib Ranch, Sam's BBQ 1, Williamson Bros, Dave Poe's and many more! BBQ restaurants and BBQ food trucks will be selling samples of their favorite dishes and 30 KCBS contest teams will be competing for prizes. The public can purchase food from the BBQ restaurants and food vendors for small amounts of cash.    Food vendors do sell to the public so this makes this event a "Taste of BBQ" as well as a contest for the teams. BBQ food vendors will be serving the tasty bites of some of the best BBQ in Georgia such as whole hog, brisket, baby back ribs and of course…pulled pork! Admission is FREE!  Parking is FREE!

Attendees will also find the Atlanta Beverage/Budweiser Beer Garden complete with a craft beer garden full of specialty fall craft beers, LGE Community Credit Union Kids Corner, the Gas South Entertainment Stage with live entertainment from Hurricane Wilson, Men in Blues, Hoosier Daddy, Bert Reeves, Kicking Edgar, Lauren St. James, and more!

There is a food court area complete with strolling entertainment, fantastic BBQ cooking demonstrations and much more.  There will also be a backyard BBQ contest/ Restaurant Challenge sponsored by Croye Engineering.  A VIP Booth will sit in the center of the festival with celebrity sports players hosting meet and greet with the public during the day inside.

In addition, this festival is the first national KCBS BBQ contest that the City of Marietta has partnered with and hosted in the Marietta Square.  It will be publicized nationally as a KCBS event and it will bring favorable national publicity for the City of Marietta.  There will be BBQ teams from out of town that will stay in and around the Marietta Square…some for the very first time. "We hope that this will add to tourism and to the economic growth of the Square as well," states Andres. "One goal of the festival is to have attendees visit the merchants on the Square and see the shops, art galleries, museums and restaurants that the Square has to offer.  This is what we have accomplished with Taste of Marietta. I have worked on Taste of Marietta for 15 years now and it grew more each year and now has a large economic impact for the Marietta Square each year. I would like to see this BBQ festival eventually have the same economic impact."

The net proceeds from the event go to local Marietta Square charities each year.  This year, it is the Marietta Museum of History, the Gone with the Wind Museum, The Marietta Cobb Museum of Art and the Strand Theatre.
For more information, please call MaryClaire Andres at (404) 388-6975.