Without Your Help…
This wouldn't have happened.
Erica, her husband and daughter left their home in South Georgia for the big city of Atlanta. He was offered a great job working as a security officer. They knew moving the entire family would be an expensive undertaking, but they were willing to take the risk. It would be a fresh, new start for the family.
Two months after their transition, the unthinkable happened. The company went bankrupt. Suddenly, they were left with nothing and no support. The family moved into a hotel room. When the money ran out, they slept in their car while he continued to look for work. When they could no longer do that, they drove up to MUST's Elizabeth Inn Emergency Shelter and knocked on the door. There, they were greeted by staff and volunteers ready to help them get back on their feet.
Two weeks after their arrival, Erica's husband found a great job. They were able to move out and finally begin their new life. Today, she volunteers two days a week at Smyrna Program Services. "MUST helped me when no one else would," she says with a smile. "My family will never forget that."
And this wouldn't have happened
A sweet elementary school teacher with her hair pulled back from her endearing face arrived at MUST Ministries 18 years ago. Summer was fast approaching and Carol worried about what her students would eat.
"If MUST will provide sack lunches for my children, I will drive to their homes and deliver them," she offered. MUST agreed. Those 25 students ate every weekday that summer and today, an amazing 5000 students a day receive a sack lunch during the MUST Summer Lunch program.
Think about our community if MUST didn't exist.  More than 33,000 people would not have been helped this year by receiving food, housing, employment services and clothing from the area's most comprehensive outreach to those living in poverty.
While MUST supporters took summer vacations, so did their giving. But the need didn't. Support is down and demand is up. Without your financial support, precious programs, including our Elizabeth Inn Emergency Shelter, will have to be cut.
Please help right here, right now. Your neighbors are desperate for the services MUST provides, but we can't do it without you. We are praying you will respond so others can find stability again.  We are grateful for your response to this urgent request.  Thank you for making your online gift now.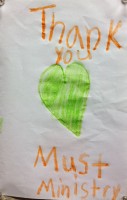 1 John 3:17-19 
New International Version (NIV)
17 If anyone has material possessions and sees a brother or sister in need but has no pity on them, how can the love of God be in that person? 18 Dear children, let us not love with words or speech but with actions and in truth.
As always, thank you for partnering with us to serve our neighbors in need.
Sincerely,
Dr. Dwight "Ike" Reighard
President and CEO
MUST Ministries is a non-profit, faith-based organization helping 33,000 people in eight counties break the cycle of poverty and homelessness. MUST provides basic necessities such as food, housing, employment services and clothing free of charge without regard to income, race or religious beliefs.