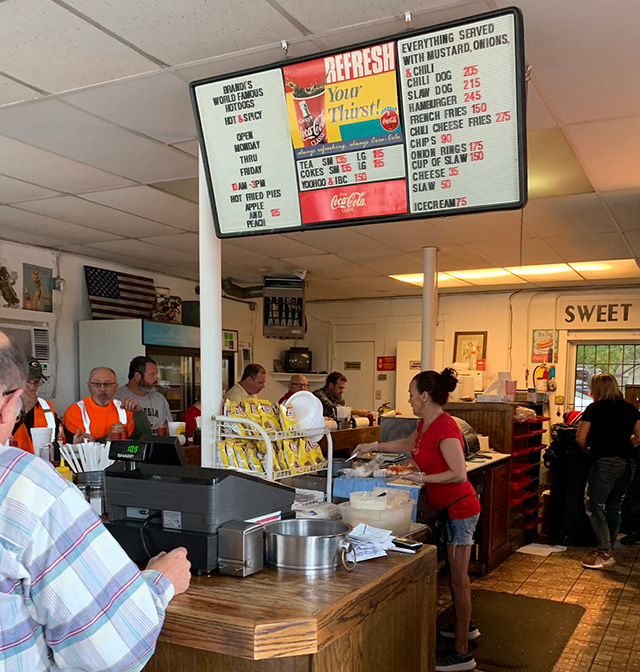 Brandi's World Famous Hot Dogs is an old-fashioned hot dog joint in Marietta serving some of the area's best chili-slaw dogs. The original circa 1915 building was a Shell Service Station until the late 50's, when it became "Ravan's Marble Inn". It got its name from the unusual marble brick front. The "Marble Inn", as it was commonly known, was well-known for their bbq sandwiches and curb service.
Betty Jo Garrett began working at the Marble Inn in 1955, and continued to work there until taking over as owner in 1984, serving her "World Famous Hot Dogs". Betty witnessed the Elizabeth area move from a rural community to somewhat of an economic boom in the late 60's. The years when J.P. Brown Grocery was the hub of activity, Shaw's Feed Mill was there for the needs of the farmers, and Burger's Fruit Market was there providing fruits and vegetables.
In 2002 at the age of 21, Brandi Wilson purchased the restaurant and renamed it "Brandi's World Famous Hot Dogs". They sell about 500 hotdogs a day and are known for their spicy chili, a recipe that was passed down from Betty Garrett.
Hours:
Monday through Friday from 10am to 3pm.
Address:
1377 Church Street Ext NE
Marietta, GA 30060

Phone:
(770) 422-3681

Menu:
"Everything served with mustard, onions, & chili."
Chili dog, slaw dog, hamburger, french fries, chili cheese fries, chips, onion rings, cup of slaw, hot fried apple or peach pie, ice cream. Drink options include ice tea, coke products, yoo-hoo, and IBC root beer.
Tips:
Bring cash, they do not accept credit cards.
Try for an early or late lunch, the restaurant is always packed at lunch time.
The gravel parking lot is one way around the building. From Church St. Ext. facing the building, enter to the right and park. To exit, continue around the back of the building and exit out the other side back on to Church St. Ext.
Watch out for the train, it crosses Church St. Extension right in front of the building.
The chili is spicy and contains no beans. For those looking for a milder dog, the coleslaw cuts down the heat, and you can add a slice of american cheese to cut the heat even more.
The hot dogs are pink, the fries are crinkle cut, the tea is sweet, the prices are great.
"One of the 7 Wonders of Cobb County"
– Marietta Daily Journal

"The spicy chili is Brandi's specialty, and what separates them from the pack. The chili-slaw dog matches it with a creamy, soothing coleslaw, onions for crunch and a vinegary mustard for zing."
– Zagat, Top 10 Hot Dogs in Atlanta