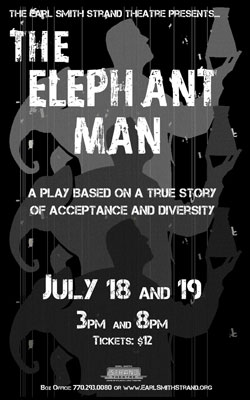 The Earl Smith Strand Theatre and talented local high school actors are teaming up to present the theatre's first student produced show this July: Bernard Pomerance's The Elephant Man.
The Elephant Man is based on the life of Joseph Merrick, a man who lived in London during the Victorian era and was known for his severe physical deformities. The play traces Merrick's emotional struggles through his experiences as a circus sideshow attraction and his attempts to overcome his horrific appearance.
"We are thrilled to be producing The Elephant Man at the Earl Smith Strand Theatre this summer," says Director Robert Adams. "It won the 1979 Tony Award for Best Play and it remains an important work of theatre and represents an exciting challenge for these young Cobb County actors."
Dates:
Saturday, July 18 at 2pm
Saturday, July 18 at 8pm
Sunday, July 19 at 2pm
Sunday, July 19 at 9pm
Admission:
$12
Address:
117 North Park Square
Marietta, GA 30060
For more information, please call (770) 293-0080.