Two local entrepreneurs open Marietta's first and only craft brewery
After semi-retiring from the corporate world in 2009, Roger Davis decided to explore the art of home brewing. He and friend Bobby Thomas worked together to set up a 15-gallon brew pot in Roger's basement. After about a year of creating recipes and receiving positive reviews from friends, they realized their basement brewing had larger potential and The Red Hare Brewery was born.
Red Hare Brewing Company, located in an 11,000 square foot warehouse just off Delk Road & 75, opened it's doors to the public earlier this month. The taproom is open for tours and tastings on Fridays from 5:30-7:30pm and Saturdays from 3:30-5:30pm. Visitors can take a walk through the brewery every half hour, and souvenir glasses for beer tasting are available for $8. On tap is the Long Day Lager, a Bohemian-style amber pilsner with a citrus aroma and the medium-bodied and slightly sweet Gangway IPA.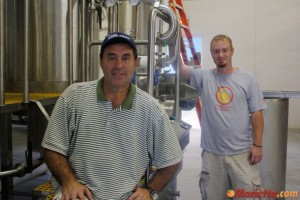 Co-founders Roger Davis and Bobby Thomas plan to tap into the surging popularity of craft beers, a market segment that has seen growth despite the overall weak economy. According to the Brewers Association, an industry trade group, growth of the craft brewing industry was up 11% in 2010 compared to 2009, while overall beer sales fell 1% during that same period.
The company's beers are available now at local bars and restaurants including Taco Mac, Hemingways, Thinking Man Tavern, Johnny MacCracken's, Blue Moon Pizza, and more. The brewery also plans to introduce their brown ale soon as well as a wheat beer in the spring.
Address:
Red Hare Brewing Company
1998 Delk Industrial Blvd
Marietta, GA 30067
Tours & Tastings:
Every half hour
Friday 5:30-7:30pm
Saturday 3:30-5:30pm
Cost:
Souvenir glasses for beer tasting are available for $8, tours are free.
For more information, please call (770) 331-8763.