Marietta Electronics Recycling is available every Monday through Friday at the Tommy Nobis Center through their Recycletronics program. The Tommy Nobis Center is a non-profit organization providing job training and employment for youth and adults with disabilities of all types. One of their programs is Recycletronics, in which companies and individuals can drop off old electronics for recycling. The electronics are shredded for recycling, nothing goes to a landfill, and the donations are tax-deductible.
We recently visited the Tommy Nobis Center to clear out some of our electronics.


The center is located on Bells Ferry Road in Marietta, near the intersection of Bells Ferry and Cobb Parkway.


Upon arrival, visitors can enter the lobby and notify the center of their donation. They center offers receipts for those who want to take tax deductions for their donations.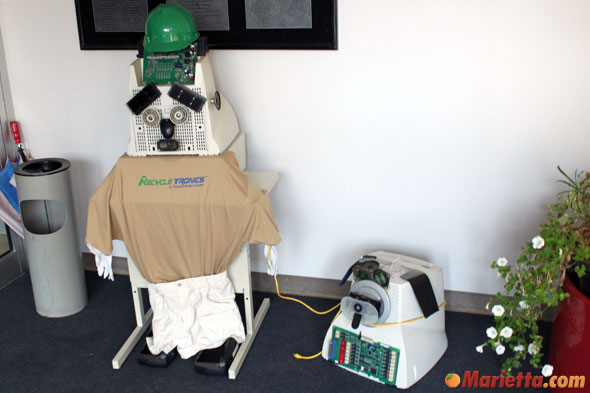 Visitors are greeted by the Recycletronics mascot and his dog.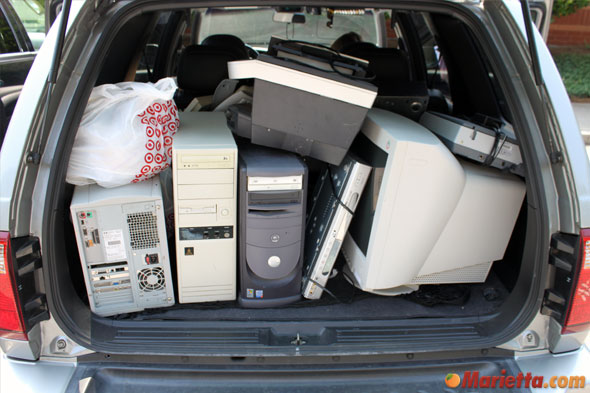 After notifying the center that you wish to make a donation, visitors are asked to drive around to the loading dock on the side of the building.


Employees at the center will unload your donated electronics and take them inside for processing.


Electronics are sorted and later converted to reusable steel, aluminum, copper, precious metals, plastics, and glass.


Once converted to commodities, the recycled material is used to manufacture new products. Nothing goes to landfills.

Address:
1480 Bells Ferry Road
Marietta, Georgia 30066-6014
Donation Hours:
Monday thru Friday – 8:00 am to 3:00 pm
Last Saturday of Each Month – 9:00 am to Noon
For more information, please call the Tommy Nobis Center at (770) 427-9000.