National Children's Dental Health Month keeps smiles brighter through education
February is a busy month across the United States, with Punxsutawney Phil predicting the arrival of spring, honoring our nation's leaders on President's Day and celebrating our loved ones on Valentine's Day. But you may not know this month contains another important message: Getting an early start on oral health can prepare children for a lifetime of healthy teeth and gums.
The American Dental Association (ADA) sponsors National Children's Dental Health Month (NCDHM) each February to raise awareness among parents and children about the importance of good oral health. According to the Centers for Disease Control and Prevention, tooth decay remains the No. 1 most common childhood disease, a disease that is five times more common than asthma in the United States. Proper oral health in children is important because if children take care of their teeth from an early age, they are less likely to encounter dental disease such as cavities, gum disease and plaque build-up in the future.
To commemorate NCDHM, now in its 63rd year, a number of Cobb pediatric dentistry and orthodontic practices are offering educational programs and free teeth cleanings in addition to advice on how to keep your children's teeth in biting shape.
Making Learning Fun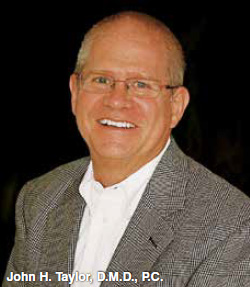 For John H. Taylor, D.M.D., P.C., education is a fundamental part of his practice, Children's Dentistry of Marietta. An East Cobb native who has been practicing in the area since 1987, he received his undergraduate degree at Mercer University and his dental degree at the Medical College of Georgia School of Dentistry. Taylor is a fellow of the American College of Dentists and has professional affiliations with the American Academy of Pediatric Dentistry, Southeastern Society of Pediatric Dentistry and the Georgia and American Dental Association.
"For the past 20 plus years, our practice has celebrated February and National Children's Dental Health Month with community outreach in our local schools for dental education," says Taylor. "'Miss Judy,' as everyone calls her, takes time out of the practice to visit area schools and provide a fun and entertaining program to teach good nutritional habits and good oral health to kids from 3 to 5 years of age. She is so popular that area schools call months in advance to schedule her program for their school." According to Taylor, Miss Judy typically educates between 1,000 and 1,300 kids a year in the East Cobb area, which means more than 23,000 children in the East Cobb area have been taught good oral habits over the years.
In Taylor's office, parental involvement is also an important part of the overall dental experience, as parents can become comfortable with how their child reacts to teeth cleaning and dental hygiene instruction in the office. "We have mom or dad escort the child into the tooth brushing area where we give the child a new toothbrush and have the child brush at the sink," he says. "This allows us to answer any questions the parents have about their child's teeth or hygiene issues at this time and suggest any improvement needed. The parents are there to observe our dental hygienists clean their child's teeth and can be informed of any areas of concern we may have."
High-Quality Care
Born and raised in Winston-Salem, N.C., Michael A. Rossitch, D.D.S., M.S., P.C., pediatric dentist and owner of Rossitch Pediatric Dentistry in Marietta, received his undergraduate degree, master's degree and dental degree from The University of North Carolina. He is a founding member of the 1998 Society at Children's Healthcare of Atlanta. "I always enjoyed working with kids, but it was my experiences volunteering in orphanages in Mexico and Honduras while in dental school that really solidified my desire to work in pediatrics," says Rossitch.
Rossitch says that NCDHM is a busy time in the office, as his staff provides educational programs for preschools and daycares around the area. "Our office is a revolving door of staff members coming and going from these school visits all month," he says. "Our goal is to provide education to these children and provide supplies so that they can take these things home and start on a good oral hygiene regimen."
More than anything, Rossitch Pediatric Dentistry is focused on providing the highest quality dental care in an environment that helps kids have positive experiences and maintain a happy and healthy smile for life. "My staff and I are prepared for any situation and committed to providing the best oral health care possible," says Rossitch.
Bracing for the Future
Capps and Iaculli Orthodontics in Marietta is a dental office that specializes in the practice of orthodontics. In October 2013, John D. Iaculli, D.D.S., M.S., purchased the practice from W. Jerry Capps, D.D.S., M.S.D. Iaculli attended Bucknell University, graduating with a degree in chemical engineering, and received a dental degree from State University of New York at Buffalo and a master's degree from the University of Illinois in Chicago with a specialty certificate in orthodontics. "We are celebrating Children's Dental Health Month by visiting local schools and providing oral hygiene instruction," says Iaculli. "We will also be giving out goody bags full of free toothbrushes, toothpaste and floss."
As a provider of braces, Capps and Iaculli Orthodontics sees children every six to eight weeks, compared to the typical six month cleanings provided at a general dentist office, allowing them to establish a close relationship with a child, which gives them a unique opportunity to monitor and shape a child's overall oral health. If poor oral hygiene or a problem is noticed, the practice can intervene sooner and make recommendations to visit a dentist for a cleaning or restorative appointment.
Many positive changes can take place in the time kids spend going through the orthodontic experience, says Iaculli. "It is common to focus only on the aesthetics of straight teeth and the oral health is an afterthought in the developing adolescent," he says. "This is actually the perfect opportunity to start educating children about their oral health. When a smile is corrected with braces, a child will often start taking pride in their mouth. They begin to gain confidence in themselves and look for ways to improve their oral hygiene. It is a wonderful transformation that we, as orthodontists, get to actively participate in and follow the progression of a child into young adulthood."
Know the Drill
The ADA provides the following tips to make certain that parents are doing all they can to ensure proper oral health in their children:
Start children out early with good oral care. Wipe the gums of infants with a soft washcloth before the first tooth appears.
Brush with a fluoride toothpaste twice a day for two minutes (for children 2 years or older).
Floss daily.
Get enough fluoride through drinking water, fluoride products and fluoride supplements, if necessary.
Visit the dentist regularly through biannual exams and cleanings.
Prevent cavities with a nutritious diet, including plenty of fruits and vegetables, instead of processed foods.
As far as diet and dental health is concerned, parents face a bewildering array of food choices for the little ones, says Taylor. Maintaining a nutritious diet in children is essential to promoting oral health and preventing tooth decay. "What kids eat and when they eat it may affect not only their general health, but also their oral health," he says. "Children are consuming more and more processed foods high in sugars and starches. Junk food and drinks gradually have replaced nutritious foods for many children. For example, the average teenage boy in the U.S. consumes more than 80 gallons of sugary drinks a year."
Alarmingly, a steady diet of sugary foods and drinks can ruin teeth, especially among those who snack throughout the day. "Grazing with small meals all day maybe good for overall health, but not for your teeth," says Taylor. "When sugar and starches are consumed over and over again, often in hidden amounts, the harmful effect on teeth can be dramatic. Sugar on teeth provides food for bacteria, which produce acid and this acid in turn can eat away the enamel on teeth, causing tooth decay." Starches and sugars can be found in almost everything from bread to pretzels to salad dressing, so reading labels and planning carefully is important for a balanced, nutritious diet for kids, which in turn promotes good oral health.
Aside from diet and prevention, education is key to keeping a child's teeth and gums strong and healthy, says Iaculli. "The path to developing healthy dental habits results from proper education," he says. "By educating themselves and their children, parents will allow their children to smile for a lifetime."