Haiti Container Building Project brings together students, professionals and community leaders
As a civil and environmental engineer, Marcellus Pitts, CEO of Acworth-based Pitts-Fowler Enterprises Inc., says two questions have continued to surface throughout his 40 years in the industry: What can be done to develop future engineers? How can members of the engineering field get more involved with engaging young people in engineering?
A few years ago on a mission trip to Haiti, Pitts says God spoke to him, telling him he would need to return to help support the country that has been ravaged by natural disasters in recent years and is deeply impacted by deforestation and nationwide poverty. Many Haitian communities lack basic humanitarian needs, like sustainable energy, clean water, internet connectivity and valuable educational opportunities for their residents. "One of the things I really wanted to do was focus on four components that we bring together: the private sector, the governmental sector, academia and the faith community," says Pitts.
He soon turned to the Cobb community for help. Working alongside Cobb County School District and Marietta City Schools (MCS), he launched after-school engineering clubs, first at North Cobb High School, then additional clubs at Marietta High and Kennesaw Mountain High. In 2013 at Marietta High, he was introduced to pre-engineering and pre-architecture teacher Leon Grant. Through their discussions, the two discovered they shared a vision to bring more hands-on STEM (Science, Technology, Engineering and Math) opportunities to students. Grant heard his ideas to help the people of Haiti and together, they set their sights on the small mountainous community of Plaine de L'Arbre as their focus for a multi-year project.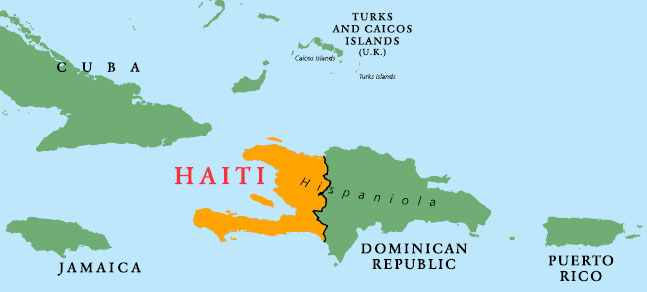 Over the last three years, 1,300 participating elementary through high school students have led the charge (with assistance from mentors, including industry professionals, organizational leaders and Kennesaw State University engineering students) to research, engineer, design, and construct a prototype community center made of sustainable buildings from repurposed shipping containers. The five-acre, multi-purpose community center will feature a health clinic, vocational classrooms and a community meeting space.
The prototype structures upon which the students conducted much of their research were donated by Google. These six building containers that formerly housed the students' designs will remain on the Marietta High campus and serve as the Engineering & Architecture Research Laboratory for Sustainability (EARLS Lab), a testing center that will allow future K-12 students to expand and improve on the technologies that originated from the project.
Working together and bringing in 16 educational and business partners along the way to advise on various projects, the Haiti Container Building Project teams developed innovative solutions and sus-tainable designs to incorporate neces-sary technologies into the community center, such as solar and wind energy, satellite internet communication, rain-water harvesting and aquaponics (the combination of aquaculture [raising fish] and hydroponics [the soil-less growing of plants] that grows fish and plants together in one integrated system). Pitts says the center is on schedule to be completed in May 2018, and he plans to return to Haiti next summer to ensure all is working according to plans.
Empowering Future Engineers
The project has not only given students an opportunity to give back to those less fortunate, it has shown them how engineering can make the world a better place, Pitts says. "If you don't have a desire or a heart to help people, you're going into the wrong profession," he says. "There basically isn't an engineering role out there that doesn't focus on creating a better life for people."
But showing is far more critical than simply telling. "So often what [engineers] end up doing with young people is painting these pictures of different fields and they get excited, [but] then [the students] end up getting something they don't like when they get their degree," Pitts says. "So one of the things I think we have to start taking a look at is actually providing opportunities for young people to get empowered and get exposed to the job market that's coming. If we want them to come into our arena, we have to help them understand what our arena is and prepare them to enter into it."
Following the success of the project, Pitts has had the opportunity to consult with MCS leaders on Marietta High's new, $9-million college and career academy, a two-and-a-half-story addition to the school's campus focused on college and workforce readiness. "When the [career academy] is finished, what happens is a science teacher is going to be able to show them about water or electricity outside of a book," Pitts says. "Exposure is a great experience-maker, without a doubt."