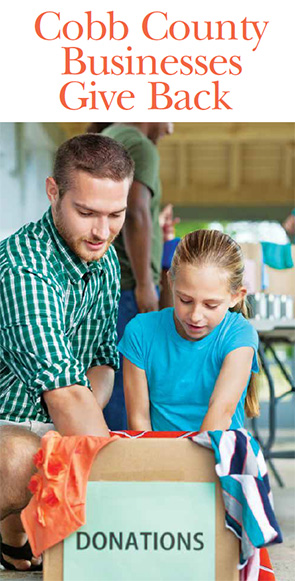 With the gift-giving season upon us, Cobb County residents are gearing up for the holiday rush at area malls. But local businesses also embrace the season as an opportunity to serve their community and donate to organizations in need. Instead of simply writing a check to local charities, executives and employees volunteer their time, money, resources and professional skillset to give back year round. Here's a look at how a handful of Cobb County businesses make the community better.
Pulte Homes
After Aimee Copeland survived a rare bacterial infection called necrotizing fasciitis after a ziplining accident, she faced seemingly insurmountable challenges. Copeland endured several amputations to stave off the devastating infection and needed an expansion to her family home to accommodate her special needs. Pulte Homes stepped in to customize a wing in order to facilitate Copeland's ongoing rehabilitation and enable greater independence. Pulte expanded the Copeland family home by 1,956 square feet in a mere 40 days to coincide with Aimee's homecoming from a rehabilitation facility. A new bedroom, fitness room, study area, elevator access to other parts of the home, including the kitchen, and other touches enabled Aimee and her family to focus on her recuperation.
Despite the ambitious expansion and abbreviated timeframe, the project was completed ahead of schedule. As Atlanta's largest homebuilder by volume, Stephen Haines, vice president of sales for Pulte Homes in Georgia, felt the company was in a unique position to help. "It was an honor and privilege for Pulte and its trade partners to be able to give back, and provide a resolution that few others could in such a short timeframe," he says.
Thirty trade partners—including 84 Lumber Company, Randall Lowe Plumbing, Great Southern Wood Preserving, Sherwin Williams, Wilkins Electric and Woodman Insulation—donated time, expertise and materials at no cost to the Copeland family. Their diligent efforts paid off—Aimee called Haines the day she arrived home and marveled that it was greater than what she imagined.
Gas South
Because it strives to make a difference every day of the year, Gas South takes a hands-on approach with community involvement, ranging from monetary donations to volunteered time. The company fosters a culture of altruism and volunteerism, starting with
the executives and trickling down. "With all of our employees living and working in Georgia, Gas South strives to distinguish itself by giving back to the communities we serve," says Meredith Hodges, vice president of external affairs and human resources. "We know that giving back takes more than just a financial commitment, but dedication from our employees." Gas South regularly organizes charitable efforts during the workday. That might mean preparing lunches during the summer months for children who rely on government-funded meals during the school year. Recently, Gas South's human resources personnel donated their time to host free career workshops and mock interviews for the unemployed. To encourage year-round giving among its staff, the company offers most of its employees eight hours a year of paid time off to volunteer for projects of their choosing. Gas South regularly recognizes and honors its employees' volunteer efforts through meetings and other office-wide notices.
Gas South focuses on four areas for charitable giving: arts, education, social service partners and alliance partners. This fall, the company helped bilingual students and families at Norton Park Elementary School in Smyrna with a $1,000 donation to purchase translation technology to help facilitate communication between bilingual parents and school staff at PTA meetings. Part of the donation will also be used to add a bilingual electronic marquee in front of the school. Since 2009, Gas South has donated $12,500 to Norton Park Elementary through its Partners in Education Program and the company has similar partnerships with Heritage Academy and Coan Middle School in Atlanta.
Hodges notes that in 2012, Gas South donated thousands of hours of volunteer service, along with more than $500,000 to local non-profits. Since 2010, Gas South has contributed $172,000 to the United Way and the Salvation Army's Project SHARE through the "Bring the Heat" campaign. At the beginning of the baseball season, Gas South pledged $50 every time an Atlanta Braves pitcher struck out an opponent. This season, the Atlanta Braves recorded 1,200 strikeouts, resulting in a donation of $30,000 to each non-profit. "Gas South has been a tremendous supporter of the Salvation Army and we are very grateful for this partnership," says Major Jim Arrowood, divisional commander for the Salvation Army's Georgia divisional headquarters. "But more than that, Gas South's generosity has meant a great deal to hundreds of families in crisis across Georgia that continue to experience challenges in the current economic environment."
Cobb EMC
"Cobb EMC's culture of improving the lives of our members started with our founding in 1938," says Mark Justice, associate vice president of education and community relations at The Cobb Electric Membership Corporation (Cobb EMC). "Our Charitable Contributions Committee, made up of employees from throughout the company, provides direct guidance on our giving. The company and employees support the school systems in our service area."
With an eye toward educating and fostering tomorrow's talent, Cobb EMC partners with area schools to mentor students through events like career days, art contests, internship programs, literacy week and a sponsorship of the Cobb County Science Olympiad. Some of its partner schools, like Powder Springs' Lovinggood Middle School, also benefit from small-scale solar power generating stations sponsored by Green Power EMC through Cobb EMC. Teachers have harnessed the inspiration behind the Green Power initiative to customize a curriculum linked to the solar power plant with lessons on renewable energy. It's the first statewide academic program showcasing the benefits of solar energy.
To further students' interest in academia, Cobb EMC offers a $1,000 Walter Harrison Scholarship for use at any accredited two- or four-year university, college or vocational-technical institute in Georgia. Other programs help foster students' lifelong love of learning. "Cobb EMC's annual Literacy Week impacts more than 5,000 elementary and high school students when children's book authors make presentations in local schools," explains Justice. The company also supports students and schools with contributions to programs like the Pebblebrook High School Football Booster Club for its athletic program.
To further extend its reach in the community, Cobb EMC also provides its customers with a simple and inexpensive way to get involved. The "RoundUp" program allows customers to automatically round up their bill to the next highest dollar amount. For example, a bill for $51.04 would automatically round up to $52.00. The extra $0.96 is then allocated to community service projects, education and youth initiatives and local non-profits. The variety of services provided by Cobb EMC ensures that their spirit of giving touches everyone in the community. "All of these projects culminate to allow us to give back to the community we serve," says Justice.
Community & Southern Bank
"Community & Southern Bank understands the value of our namesake—community—and that many local causes depend on outside volunteers and contributions," says Mike Griggs, chief marketing office of Community & Southern Bank (CSB). "In continuing to serve others with excellence and integrity, we have made a commitment of both time and monetary aid to several initiatives in 2012." These initiatives were particularly focused on education. The bank pledged $25 each time a customer opened a qualifying CSB personal checking account, business checking account or safe deposit box. Contributions were made to the school of the customers' choice and the company awarded an additional $5,000 to the four schools in the state with the most contributions. Schools were allowed to choose how the donations would be used—whether for books, art supplies, athletics or other areas. Called "Earning for Learning," the program falls under the purview of Community & Southern Bank's CSB Foundation to allocate donations and charitable contributions. The CSB Foundation is designed to focus on youth development, health and wellbeing, and other in-need community initiatives. Going forward, CSB's commitment to the community promises to remain strong. "As we move toward 2013, we look forward to assisting our communities through additional philanthropic efforts, which will be solidified as we progress toward the New Year," says Griggs.