Bleeding Gray & Blue Weekend takes place September 20-22, 2013 and commemorates the 150th Anniversary of the Confederate Cemetery.  The weekend features special events at the Gone With the Wind Museum, Marietta Museum of History
Old Zion Heritage Museum, and Root House Museum, as well as live music in the square, guided tours, art, and a movie screening.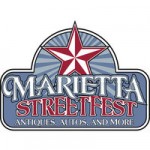 On Saturday, September 20, 2013 the Marietta Streetfest takes place on Marietta Square.  Also on Saturday is the Marietta Grassroots Festival, now a part of the Streetfest.
On Sunday is the premier of "Kennesaw: One Last Mountain" at the Strand Theatre.  The event is presented by the Kennesaw Mountain National Battlefield Park and the Battles of Marietta 150th committee, and the movie will be the first showing of the new movie created by the National Park Service for Kennesaw Mountain National Battlefield Park Visitor's Center.
FRIDAY, SEPTEMBER 20, 2013
10am to 4pm
12pm to 2pm & 6pm to 9pm
SATURDAY, SEPTEMBER 21, 2013
9am to 12pm
9am to 5pm
10am to 4pm
11am & 2pm
Guided Tours of Downtown Civil War Hospital Sites
$15 in advance / $20 day of
www.bleedinggrayandbluetour.eventbrite.com
3pm to 9pm
9pm
Fireworks over Downtown
(Rain-out date for Fourth of July)
SUNDAY, SEPTEMBER 22, 2013
150th Anniversary Commemoration of the Confederate Cemetery
12pm to 3pm
1pm
Program and unveiling of Public Art
1:30pm to 5pm
Living History Tours with reenactors
$10 – Benefiting the Confederate Cemetery & Brown Park
Movie Premiere at the Earl Smith Strand Theatre
6:30pm to 7:30pm
Concessions and exhibits
7:30pm to 9pm
Movie "Kennesaw: One Last Mountain"
$8 – www.earlsmithstrand.org
Check out the "Kennesaw: One Last Mountain" preview below: