TopGolf Alpharetta is a one-of-a-kind golf entertainment experience with seven competitive games and advanced technology to track the accuracy and distance of players' shots.  Players hit golf balls containing computer microchips that track each shot's accuracy and distance while also awarding points for hitting targets on the outfield. The facility offers a laid-back experience that features climate-controlled hitting bays and an impressive food and beverage menu.
The three-level Topgolf Alpharetta facility includes:
102 climate-controlled hitting bays on three floors
a full-service restaurant and three bars
more than 230 high-definition flat-screen TVs
a rooftop terrace with fire pits
3,000 square feet of private event space
TopGolf Alpharetta's 60,000-square-foot facility is the 12th location worldwide and first in the southeast United States.  "We will be hosting golf tournaments, daytime clinics for kids, Monday evening leagues, themed costume parties, and live music every Thursday, Friday and Saturday night on our rooftop terrace. Even if you don't play golf, there will be no shortage of things to do at Topgolf" said Topgolf Alpharetta Director of Operations Bob Dodson.
Topgolf estimates that it will serve 450,000 visitors in Alpharetta in its first year of operation, with a 10-year economic output exceeding $264 million.
Address:
Topgolf Alpharetta
10900 Westside Parkway
Alpharetta, GA 30009
(approximately 30 min from Marietta Square, 15 min or less from East Cobb, depending on traffic)
Phone:
(770) 217-0513
For more information, please visit www.topgolf.com/alpharetta or call (770) 217-0513.
[mappress mapid="1″]
Photos courtesy TopGolf: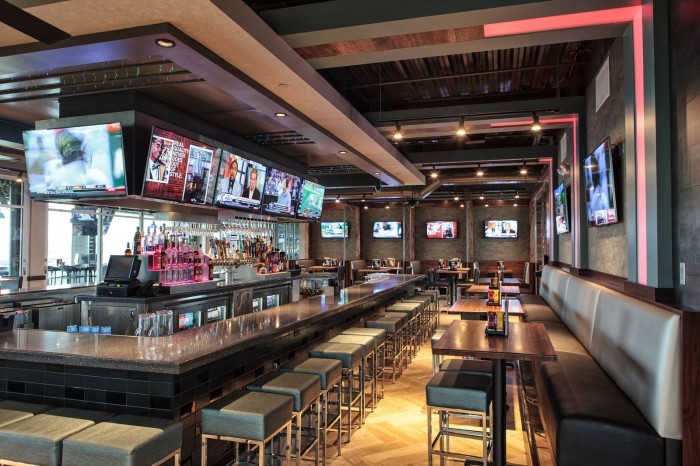 For more information, please visit www.topgolf.com/alpharetta or call (770) 217-0513.