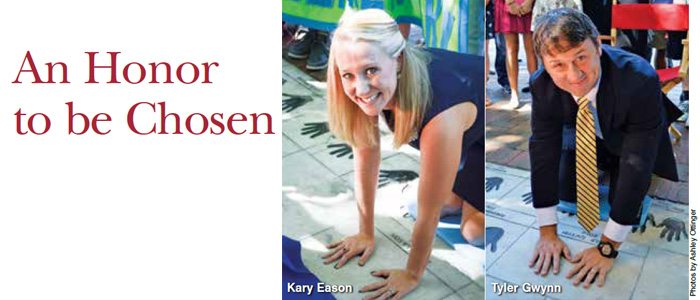 Two outstanding teachers have been selected to represent Cobb County as the 2015 System Teachers of the Year. Katy Eason, a fifth-grade teacher at Sawyer Road Elementary School, was chosen among her more than 630 peers as Marietta City School's System Teacher of the Year. She has taught for five years in the Marietta school district. "It is such an honor to represent the teachers of Marietta," Eason says. "There are countless educators who are equally, if not more, deserving than me to have this opportunity. The chance to have a positive voice in education for the betterment of teachers and students, beyond my school, is tremendous."
Outside of work, Eason says she enjoys spending time with her family, especially playing with her 2-year-old son Ben, and raising money for the American Cancer Society, the Pancreatic Cancer Action Network and Relay for Life, in addition to helping out at local animal shelters.
Allatoona High School's Tyler Gwynn, a geology and psychology teacher at the northwest Cobb school, was selected as the Cobb County School System Teacher of the Year. He is one of about 5,700 teachers serving the school system. "Because I know all of the talent in this county, I am incredibly humbled by this distinct honor," Gwynn says. "I want to represent Cobb the best way possible; to bring pride and honor to this profession and this community. I take that very seriously and I would love for people to understand how wonderful this profession is.
"We need to be attracting the rock stars of this generation to get in the classroom to prepare the next. We also can't do this by ourselves. We need the village to raise these kids, to give them the best chance of success. The community must get more involved in our schools. It's been my experience that they desire to do just that, but they might not know how. We need to show them how and embrace the idea of making education real-world."
Gwynn, a Cobb native who graduated from South Cobb High School in Austell, has taught for 14 years, all in Cobb County Schools. Outside of teaching, he is Allatoona's speech and debate coach, and he enjoys spending time with his family, coaching his kids in sports, going to church, traveling, fishing and playing golf.
Earlier this fall, Eason and Gwynn were formally honored during the Cobb Chamber of Commerce's 26th annual Handprint Unveiling Ceremony, "Give Our Schools A Hand," on the Marietta Square. Their loved ones, colleagues, several students and members of the Cobb community surrounded them as they unveiled their etched handprints into the Teacher Walk of Fame.